From the Principal's Office
Dear families,
In house registration for Summer camp and Fall officially begins on Monday February 29th. Can you believe we are already planning for the next school year, this one seems to be flying by.
As high as our enrollment is, it is really important that we get all of our current families registered for Summer and Fall before we begin our open enrollment on March 12th. Please take the time on the 29th to collect the relevant paperwork that you need so that we can ensure your space. I know we all dislike paperwork but it is a vital part. We are also in the process of updating all of our electronic records so that we can better communicate with you about your child's day. Thank you all for your help in enabling us to get this done in a timely fashion. It is very much appreciated. If you have any questions about registration, please do not hesitate to ask. We are here to make the process as easy for you as possible.
If you have friends who are looking to enroll their child in school for Summer or the 2016/17 school year, please direct them to our Open house which will be on Saturday March 12th from 7am – 1pm. Of course they are always welcome to call the school to set up an alternative time to tour.
As I get ready to head out on maternity leave, I wanted to say thank you for all the well wishes and advise I have received. As a first time mom to be, it is all welcomed. It is an exciting time for Justin and myself, although it certainly comes with some nervousness about what lies ahead. I can't wait for you all to meet him (he still does not have a name). My due date is March 15th and I plan on working up until something happens, and then I shall probably be gone for 8 weeks. Melissa and Andrea will be here as always to help you with anything that you need, and I look forward to writing to you all again this Summer.
Thank you as always for all that you do to support our school.
Regards,
Helen Parks, Principal
---
Golfsquad starts April 5th!!
Sign Up Now!!!
www.golfsquad.com
Start date:  Tuesday, April 5th, 2016
9:30 – 10:00 am (3 year olds)
10:10 – 10:40 am (4 & 5 year olds)
Tuesdays and Thursdays for a twelve (12) week offering on
April 5, 7, 12, 14, 19, 21, 26, 28, May 3, 5, 10, 12.
Classes will be instructed appropriately to suit the needs of new students
as well as continuing students.  Parents will receive weekly class emails
describing what students will be doing and learning in class.
All Golf Squads are instructed by golf industry professionals only.
Everything essential to enjoy classes is provided
(Golf Squad Handbooks, visors, ALL clubs, training equipment, etc).
Rain or shine practice.  Class is limited to 15 students (unless otherwise approved).
---
2 – School Wide Pajama Day for Dr. Seuss's Birthday and Read Across America.
2 – Earth Day t-shirt order forms & payment due.
11 – Parent Appreciation Day – special treats will be provided in the front lobby.
11-25 – Savory Sweets Fundraiser.
13 – Daylight Saving Time – turn those clocks forward 1 hour!
17 – St. Patrick's Day Celebrations!
20 – First Day of Spring!
21 – Memorable Moments Photography – Rooms 1, 2, 3, 4, 5, 11.
22 – Memorable Moments Photography – Rooms 10, 9, 6, 7, 8, 12.
23 – Easter Parade & Egg Hunts @ 10:00am.
25 – School Closed – Good Friday Holiday!
27 – Happy Easter!
28-April 1 – Spring Break Week.
31 – Links to Learning Folders Go Home.
---
Field Trips
Thursday, March 10th
Wine & Design Canvas Painting
– Room 11
– Cost is $11.00
– Leaving at: 9:00am
– Wear navy Chesterbrook logo t-shirt
Tuesday, March 15th 
Columbia College Children's Concert
– Room 6
– Cost is $1.00
– Leaving at: 8:30am
– Wear navy Chesterbrook logo t-shirt
Friday, March 18th
Koger Center "Alice in Wonderland"
– Room 7
– Cost is $6.00
– Leaving at: 8:40am
– Wear navy Chesterbrook logo t-shirt
Monday, March 21st
Columbia Marionette Theatre
– Room 9
– Cost is $6.00
– Leaving at: 9:15am
– Wear navy Chesterbrook logo t-shirt
Tuesday, March 22nd
Riverbanks Zoo
– Room 10
– Cost is $1.00 children, $11.00 adults
– Bring a peanut-free bag lunch
– Leaving at: 8:45am
– Wear navy Chesterbrook logo t-shirt
Thursday, March 24th
Atria Forest Lake Egg Hunt
– Room 8
– Cost is $1.00
– Bring a basket or bucket
– Leaving at: 9:40am
– Wear navy Chesterbrook logo t-shirt
Wednesday, March 30th
Riverbanks Zoo
– Room 8
– Cost is $1.00 children, $11.00 adults
– Bring a peanut-free bag lunch
– Leaving at: 8:45am
– Wear navy Chesterbrook logo t-shirt
*Field Trips are subject to change due to situations that may arise.
---
Resources
LIKE US ON FACEBOOK!! We invite you to "like" our page at www.facebook.com/ChesterbrookAcademy where we'll be providing our fans with regular educational tips for children from preschool to 8th grade and the opportunity to network with fellow parents. We would love to have your participation in this forum and encourage you to continue to check our school website for local updates specific to our own school. We look forward to having you as part of our Facebook community!
Open Registration & Open House to the Public – Saturday, March 12th: Invite a family member or friend to come to our Open Registration (7am – 1pm) & Open House (10am – 1pm) on Saturday, March 12, 2016.  This is the day to register your child(ren) for Summer Camp 2016 and/or the 2016-2017 School Year.  Be prepared to fill out the required school paperwork as well as pay the registration, activity, and one week's deposit fees.  Please contact the school and ask for Helen, Melissa, or Andrea if you have any questions.
---
Reminders
Entry & Exit Doors: ** DO NOT USE THE BACK DOOR FOR ENTRY TO THE SCHOOL!!!** As you all know there is a code required for entry to the school. Please be sure to limit the code to family members and/or friends that are picking up your child(ren) on a regular basis. Do not give the code to your child(ren). In addition, everyone should use the front entrance for drop off and pick up. We advise strongly not to let individuals in the side entry door, as this person may or may not be a Chesterbrook parent or other family member. The side door is to only be used as an exit. This guarantees the safety of Chesterbrook Academy students and staff. Thanks in advance for your cooperation in this matter.
Chesterbrook Academy & Queensboro Apparel Company: If you are interested in ordering Chesterbrook Logo apparel for your child(ren), please view our online store. You may notice all the wonderful colors available, but please keep in mind that Chesterbrook Academy uniform colors are Navy, White and Forest/Dark Green.
Chesterbrook Academy & Mabel's Labels: As a way to target the problem of lost belongings and a large lost and found closet, Chesterbrook Academy is fundraising with Mabel's Labels, a company with all types of labels that are colorful, indestructible, easy-to-use and fun! Iron-Ons, Stickies, Bag Tags, Allergy Alert labels & more! Personalize your labels with names, nicknames, initials – whatever you choose. Cool icons help even little ones identify their own belongings. Dishwasher, microwave, laundry & kid tested! Dispatched within 24 hours!
Visit www.chesterbrookacademy.mabelslabels.com to place your order.
---
For Parents
Tuition: Parents, please understand the importance of paying your tuition & paying it on time! Payments are due every Friday for the coming week. Late fees will be applied at 12 noon on Monday following the due date. Unpaid tuition, more than a week past due, will result in immediate dis-enrollment. If you have any questions, please see Helen, Melissa or Andrea in the front office. Thanks in advance for your cooperation.
Field Trips for the 2015-16 School Year: Please be reminded that students must wear the Chesterbrook logo navy t-shirts on field trips.  All monies for field trips are to be collected by someone in the front office.  Please be sure to turn in signed permission slips for scheduled field trips to your child's teacher.
Automatic Payment Program: Parents this is a very easy way for you to not worry about writing those checks every week and avoiding late fees. APP can be used to pay tuition only invoices or all invoices (tuition, registration & activity fees). Please see Helen, Melissa or Andrea in the front office for details and information on getting signed up or you can print the form from the link on the school website. In addition, you can also set up online bill-pay through your bank.
Contact Information: Please be sure that all home, work, cell and pager numbers and any other contact information is up to date in your child's file. This helps the staff at Chesterbrook have every available option to contact the parent(s) in the event of an emergency.
E-Mail Addresses: Please update your email addresses with the front office in order to receive important information about upcoming and/or emergency events from the school. We can send email notifications to more than one email address.
School Operating Hours: This is a friendly reminder that Chesterbrook's hours of operation are 7:00 am – 6:00 pm, Monday thru Friday. Half day hours of operation are 8:30 am – 11:30 am. The late pick up fee is $15 per child for the first 15 minutes and an additional $15 per child for each quarter hour after the regularly scheduled pick up time. Also parents, if you are running late and its close to closing time, please be sure to give the school a courtesy call.
Parent Ambassador Program: Spread the word about our school and save on your child's tuition! Refer a new family to our school and you could earn a free week of tuition. For more information on our Ambassador Program, see your school's principal. The current referring Chesterbrook family will receive a discount after the referred child has attended full time for 3 months. Discount applies to the tuition of the oldest child in the referring family.
---
For Parents & Teachers
NUT FREE SCHOOL: We have several children enrolled at Chesterbrook Academy with severe nut allergies. Please do not send your child to school with food containing any type of nut products.
Prescription Policy for Chronic or Allergic Conditions:
** WE CANNOT ADMINISTER OVER THE COUNTER MEDICATIONS TO YOUR CHILD**
Medication may be brought in for chronic or life threatening medical conditions. All medications must be in their original container with the prescription label attached to include the proper administering time(s) and dosage to be given. For the use of a nebulizer, a letter or note will be required from your child's doctor's office stating time(s) to be administered and the tubule dosage to be given. In addition, an "Authorization to Administer Medication Form" must be completed and turned in by the parent. Please see Helen, Melissa or Andrea in the front office if you have any questions or concerns.
Weather Policy: In the event of severe weather, we will make every effort to open on schedule and to remain open during the course of our regular hours of operation. In the event that severe weather requires us to close our school, delay our school or close early, parents will be notified initially by e-notify. Please make sure we have your most current email address and that you have added us to your address book so our message does not go to spam. In the event that your employer will not allow you to receive email at work, please provide us with an alternate email address for you. Parents may also call the school's voicemail at 803-699-9988 and listen to the prerecorded message by 5:30 a.m. for information regarding the operating hours. Information will also be posted to the school's website which is http://Wildewood.ChesterbrookAcademy.com. You can also tune into WIS channel 10 and/or WLTX channel 19 for closing and/or delay information.
**Chesterbrook Academy DOES NOT follow the schedule of Richland School District 2 during weather delays or closings**
Sign In & Out Books: We wanted to take this time to remind you all about an important security here at Chesterbrook. Please remember to sign your child in and out every day on the class Sign In/Out sheets located outside or inside of your child's classroom everyday. If someone on your child's authorized pick-up list is picking up, please remind him or her to do so as well. Although we have never had any problem nor do we expect to in the future, this is an important security measure that keeps all of the children safe. Thank you for your continued compliance with our security policies.
Uniform Policy: All children from 3 year old Preschool and up are required to wear uniforms daily at Chesterbrook Academy.  The official uniform is navy blue (NOT jean) or khaki bottoms and white, navy blue or hunter green solid tops.  Girls may also wear navy blue or khaki jumpers, skirts, skorts, or the plaid jumper offered by the uniform company, Flynn & O'Hara.  Shoes should be white, black, brown, or navy blue and preferably athletic type.
Parking Policy
Traffic should enter the school parking lot at the first driveway and exit through the carport out the last driveway.
Cars should be parked in designated parking spaces or on the road above the school.
Please do not park under the carport, behind the bus, or in front of the dumpster.
Please do not block the mailbox.
All preschoolers must be escorted into the school by an adult.
Elementary students may be dropped off at the front door. Cars should stop in the right lane only and students should exit their cars through the passenger side door.
Please do not allow your child to run through the parking lot unattended or play on the hill.
Please drive slowly on school property. Be courteous and patient with other drivers and watch out for our children.
Illness Policy
A parent of a child that is determined to be ill shall be notified immediately. The child must be picked up within an hour of notification. No child shall be allowed to remain at school with the following conditions:
Elevated Temperature (100 degrees or higher)
Vomiting and/or Diarrhea
Conjunctivitis (Pink Eye)
Head Lice
Other Communicable Diseases (ie. chicken pox, strep throat, etc.)
Student Pick-Up: Parents, please be sure to inform the teachers and/or front office if another family member or friend will pick up your child. This applies to names that are on your list as well as names that are not. If it will be the first time the family member or friend picks up your child, please remind them to bring in their drivers license when they come in. This is very important to insure the safety of your child(ren).
---
School Spotlight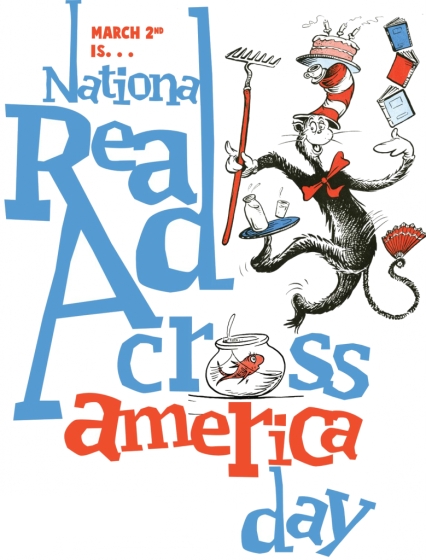 February 29 – March 4
"Crazy, Wacky Week"
Monday: Wear stripes day!
Tuesday: Mismatched socks!
Wednesday: School wide pajama day!
Thursday: Crazy hat day!
Friday: Dress like your favorite Dr. Seuss character!
_____________________________________________
Start Date: Friday, March 11th
End Date: Friday, March 25th
---

March Birthdays
Students

2 – Ahmad El Geneidy
8 – Rylee Chessick
8 – Aditi Gowda
12 – Khloe Brown
12 – Oliver Nguyen
18 – Travis Sheffield, Jr.
20 – Harper Rose Strickland
20 – Ishta Vangala
23 – Inika Bathi
23 – Christopher Moore
24 – Connor Eifert
28 – Colston Holbrook
31 – Suyash Kumar
31 – Sylas Walls
Staff
7 – Neelam Yajnik
9 – Kali Rogerson
24 – Shunda Davis
---
From the Education Department
Introducing Your Preschooler
to the Fascinating World of Non-Fiction
When you think about children's books, you might envision princesses in castles, talking animals or a flying magic school bus. Although it's fun to read these types of stories with your child, it's important to also introduce him to
non-fiction books. You may be surprised to learn that he's fascinated with exploring real people, places and things!
Non-fiction is not only interesting to children, but it also creates an important foundation for learning. It helps children build new vocabulary, develop critical thinking skills, fuel their curiosity and gain a better understanding about the world around them.
Below are ways we integrate non-fiction in the classroom, as well as activities you can try at home.
INFANTS:
In the classroom: Infants love to look at faces, so our teachers choose non-fiction books that include photographs of people, such as Global Babies by Global Fund for Children. Afterward, they show the baby a photo of his own family and talk about the people in the photo. For example, "Look, Ben. Here's your mom. Who's she holding? That's you."
At home: Read multi-sensory picture books with your child. Choose non-fiction books with different textures and bright colors to help stimulate his growing sensory awareness.
Recommended reading: Families by Rena D. Grossman, Bathtime (Baby Touch & Feel) by DK Publishing
TODDLERS (ages 1-2):
In the classroom: Toddlers learn the names of different animals and vehicles and the sounds they make. While singing songs with students, our teachers ask, "What does a pig say?" or "What sound does a fire truck make?"
At home: Point out photographs of familiar animals and vehicles in magazines or books. Ask your child to mimic the noise that each item makes. This can also be done in the car as you're driving around your neighborhood.
Recommended reading: Baby Animals by National Geographic Kids, Noisy Trucks by Tiger Tales
BEGINNERS (ages 2-3):
In the classroom: Teachers and students read non-fiction books by going on picture walks. A picture walk motivates children to rely on pictorial clues to decipher the story's plot and make predictions. Before reading the story, they flip through the book, and the child is encouraged to make predictions about the characters and plot. The teacher then reads the book aloud to the student. When finished, the teacher asks questions to start a conversation about the text.
At home: Visit a library with your child, and let him choose a book. Take a picture walk through the book with him. When you're finished, ask the librarian to recommend a non-fiction book about the same topic. For example, if you read Clifford the Big Red Dog, your child might also be interested in Puppies, Puppies, Puppies, a non-fiction book by Susan Meyers.
Recommended reading: My First Baseball Book by Sterling Children's, Everything Spring by Jill Esbaum
INTERMEDIATES (ages 3-4):
In the classroom: Our Intermediate teachers combine non-fiction reading with dramatic play. After reading a book about farm life, children create their own farm in the dramatic play center and pretend to be farmers. Children gain a better understanding of the book, practice problem solving skills, and use new vocabulary.
At home: Select a book with large photographs or illustrations. Flip through the book, and let your child stop on pages that interest him. Don't worry about reading every page. Ask him to tell you what is going on in the pictures, and encourage him to make comparisons to experiences he's had in real life. For example, if you pick a book about weather, you might ask, "Where do we go in the summertime when it's hot?" or "Why do we use an umbrella in the springtime?"
Recommended reading: Watching the Seasons by Edana Eckart, Wings by Melanie Mitchell
PRE-K/PRE-K2 (ages 4-5):
In the classroom: Our older preschoolers read a non-fiction book paired with a fiction book, and compare and contrast the two stories. After reading Stella Luna and Bat Loves the Night, the teacher might ask, "In Stella Luna, the bat slept upright. Is that how a real bat sleeps?" Students may also create a Venn diagram that shows similarities and differences in the two books.
At home: Read various forms of non-fiction with your child, including books, brochures and flyers.  Challenge him to find sight words in the text. Afterward, ask him to write in his journal what he would like to learn about next. Use that information when choosing another piece of non-fiction.
Recommended reading: Diary of a Worm by Doreen Cronin (fiction), Wonderful Worms by Linda Glaser (non-fiction)
By introducing children to both fiction and non-fiction texts in the preschool years, they become comfortable with a wide range of subjects and acquire the skills needed to comprehend important information in kindergarten and beyond. They are better able to tap into their interests and enjoy learning about real world people, places and things.
– Lauren Starnes, PhD – Director of Early Childhood Education