From the Principal's Office
Dear Parents:
Thank you to everyone who has taken the time to welcome me back from my maternity leave. For those of you who are new to the school, I look forward to meeting you. I thoroughly enjoyed my time at home with Logan, but it is great to be back into a routine. I want to personally say a huge thank you to Ms. Melissa and Ms. Andrea who both took on extra hours and tasks in my absence.
We have had a great start to our Summer Camp so far. Our friends have been busy swimming, playing soccer, dancing, doing gymnastics and enjoying cold treats on Fridays. All of these extra things have been running alongside our very own Links To Learning Curriculum.
I hope that you are all enjoying the new app that is sending you your daily reports and pictures every day. It is a great tool for the teachers to use in the classroom and it also strengthens the security in our school due to everyone's pictures being on there for recognition. Chesterbrook is always looking for ways to improve school and home connections and we think this will really help. You can reply to the photographs that you get, but bear in mind that those messages come to the admin team, not to the classroom teachers. We are always happy to pass any messages or feedback along however.
Make sure to keep checking the calendar this summer for any fun events or dress up days that are occurring. As always, if you have questions you are welcome to call or email us here.
I would like to remind you that we will be closed on Monday July 4th in celebration of Independence Day. I hope everyone has fun plans with family and friends that weekend. Please make sure that you all keep yourselves safe and enjoy this special Holiday.
Thank you as always for supporting our Chesterbrook family.
Regards,
Helen Parks, Principal
---

Events
1 – 4th of July Parade @ 10:00am – Wear Red, White & Blue!!
1 – 4th of July Cookout!
4 – School Closed – Independence Day!
---
Summer Camp Ice Cream Schedule
$2.00 each week
July 1st – Kona Ice @ 2pm
July 8th – Heavenly Ice Cream Truck @ 2:30pm
July 15th – Kona Ice @ 2pm
July 22nd – Pelican's Snoballs @ 2:30pm
July 29th – Heavenly Ice Cream Truck @ 2:30pm
August 5th – Kona Ice @ 2pm
---
Saluda Shoals
(leaving the school @ 9:00 am)
Wednesday, July 13th…..Room 12
Thursday, July 14th…..Room 6
Wine & Design Canvas Painting
(leaving the school @ 9:30 am)
Wednesday, July 20th…..Room 12
Thursday, July 21st…..Room 6
Sesquicentennial State Park Splash Pad
(leaving the school @ 9:30 am)
Wednesday, July 27th…..Room 12
Wednesday, July 28th…..Room 6
Royal Z Bowling Lanes
(leaving the school @ 9:10 am)
Wednesday, August 3rd…..Room 12
Thursday, August 4th…..Room 6
Summer Camp 2016 Field Trips: Please be reminded that students must wear the Chesterbrook logo Summer Camp t-shirts on all field trips.  The t-shirts were handed out during the first week of Summer Camp.  If you do not receive a t-shirt for your child or need to exchange a size, please see Helen, Melissa, or Andrea.
---

Tuition Increase Effective July 3, 2016
Chesterbrook Parents!
We wanted to remind you all that our annual tuition increases will be effective the week of July 3rd!  Below is the 2016-2017 Tuition Rate Sheet that will help you determine what you will need to pay beginning the week of July 3rd.  This only applies to students in the Toddler, Beginner, Intermediate and Pre-K classes (rooms 1, 2, 3, 4, 5, 7, 8, 9, 10,11).  If you have any questions, please contact Helen, Melissa or Andrea in the front office!  Thank you! 
The new rates will be as follows:
| | | | | | |
| --- | --- | --- | --- | --- | --- |
| Full Days | Full Days | Full Days | Half Days | Half Days | Half Days |
| Program | 5 | 3 | 2 | 5 | 3 |
| Toddler | $225 | N/A | N/A | N/A | N/A |
| Beginner | $215 | $167 | $135 | $152 | $119 |
| Intermediate | $208 | $161 | $129 | $144 | $111 |
| Pre-K | $207 | $160 | $128 | $142 | $109 |
---
Please drive slowly on school property!
Be courteous and patient with other
drivers and watch out for our children!!!
---
Resources

LIKE US ON FACEBOOK!! We invite you to "like" our page at www.facebook.com/ChesterbrookAcademy where we'll be providing our fans with regular educational tips for children from preschool to 8th grade and the opportunity to network with fellow parents. We would love to have your participation in this forum and encourage you to continue to check our school website for local updates specific to our own school. We look forward to having you as part of our Facebook community!
Open House: Invite a family member or friend to come to our Open House on Saturday, August 6, 2016 between the hours of 10am-1pm. This is a great opportunity to meet the staff, tour the facility and see first hand how Chesterbrook Academy makes a difference in the lives of children!!
Tuition Promo (For New Families): Enroll by 7/1/16 to start by 9/6/16 and earn $500 OFF tuition.  Contact our Admissions Coordinator, Megan Coleman, at 1-877-959-4181 for more details.
---
Reminders
Entry & Exit Doors: ** DO NOT USE THE BACK DOOR FOR ENTRY TO THE SCHOOL!!!** As you all know there is a code required for entry to the school. Please be sure to limit the code to family members and/or friends that are picking up your child(ren) on a regular basis. Do not give the code to your child(ren). In addition, everyone should use the front entrance for drop off and pick up. We advise strongly not to let individuals in the side entry door, as this person may or may not be a Chesterbrook parent or other family member. The side door is to only be used as an exit. This guarantees the safety of Chesterbrook Academy students and staff. Thanks in advance for your cooperation in this matter.
Chesterbrook Academy & Queensboro Apparel Company: If you are interested in ordering Chesterbrook Logo apparel for your child(ren), please view our online store. You may notice all the wonderful colors available, but please keep in mind that Chesterbrook Academy uniform colors are Navy, White and Forest/Dark Green.
Chesterbrook Academy & Mabel's Labels: As a way to target the problem of lost belongings and a large lost and found closet, Chesterbrook Academy is fundraising with Mabel's Labels, a company with all types of labels that are colorful, indestructible, easy-to-use and fun! Iron-Ons, Stickies, Bag Tags, Allergy Alert labels & more! Personalize your labels with names, nicknames, initials – whatever you choose. Cool icons help even little ones identify their own belongings. Dishwasher, microwave, laundry & kid tested! Dispatched within 24 hours!
Visit www.chesterbrookacademy.mabelslabels.com to place your order.
---
For Parents
Tuition: Parents, please understand the importance of paying your tuition & paying it on time! Payments are due every Friday for the coming week. Late fees will be applied at 12 noon on Monday following the due date. Unpaid tuition, more than a week past due, will result in immediate dis-enrollment. If you have any questions, please see Helen, Melissa or Andrea in the front office. Thanks in advance for your cooperation.
Automatic Payment Program: Parents this is a very easy way for you to not worry about writing those checks every week and avoiding late fees. APP can be used to pay tuition only invoices or all invoices (tuition, registration & activity fees). Please see Helen, Melissa, or Andrea in the front office for details and information on getting signed up or you can print the form from the link on the school website. In addition, you can also set up online bill-pay through your bank.
Contact Information: Please be sure that all home, work, cell and pager numbers and any other contact information is up to date in your child's file. This helps the staff at Chesterbrook have every available option to contact the parent(s) in the event of an emergency.
E-Mail Addresses: Please update your email addresses with the front office in order to receive important information about upcoming and/or emergency events from the school. We can send email notifications to more than one email address.
School Operating Hours: This is a friendly reminder that Chesterbrook's hours of operation are 7:00 am – 6:00 pm, Monday thru Friday. Half day hours of operation are 8:30 am – 11:30 am. The late pick up fee is $15 per child for the first 15 minutes and an additional $15 per child for each quarter hour after the regularly scheduled pick up time. Also parents, if you are running late and its close to closing time, please be sure to give the school a courtesy call.
Parent Ambassador Program: Spread the word about our school and save on your child's tuition! Refer a new family to our school and you could earn a free week of tuition. For more information on our Ambassador Program, see your school's principal. The current referring Chesterbrook family will receive a discount after the referred child has attended full time for 3 months. Discount applies to the tuition of the oldest child in the referring family.
---
For Parents & Teachers
NUT FREE SCHOOL: We have several children enrolled at Chesterbrook Academy with severe nut allergies. Please do not send your child to school with food containing any type of nut products.
Prescription Policy for Chronic or Allergic Conditions:
** WE CANNOT ADMINISTER OVER THE COUNTER MEDICATIONS TO YOUR CHILD**
Medication may be brought in for chronic or life threatening medical conditions. All medications must be in their original container with the prescription label attached to include the proper administering time(s) and dosage to be given. For the use of a nebulizer, a letter or note will be required from your child's doctor's office stating time(s) to be administered and the tubule dosage to be given. In addition, an "Authorization to Administer Medication Form" must be completed and turned in by the parent. Please see Helen, Melissa, or Andrea in the front office if you have any questions or concerns.
Weather Policy: In the event of severe weather, we will make every effort to open on schedule and to remain open during the course of our regular hours of operation. In the event that severe weather requires us to close our school, delay our school or close early, parents will be notified initially by e-notify. Please make sure we have your most current email address and that you have added us to your address book so our message does not go to spam. In the event that your employer will not allow you to receive email at work, please provide us with an alternate email address for you. Parents may also call the school's voicemail at 803-699-9988 and listen to the prerecorded message by 5:30 a.m. for information regarding the operating hours. Information will also be posted to the school's website which is http://Wildewood.ChesterbrookAcademy.com. You can also tune into WIS channel 10 and/or WLTX channel 19 for closing and/or delay information.
**Chesterbrook Academy DOES NOT follow the schedule of Richland School District 2 during weather delays or closings**
Sign In & Out Books: We wanted to take this time to remind you all about an important security here at Chesterbrook. Please remember to sign your child in and out every day on the class Sign In/Out sheets located outside or inside of your child's classroom everyday. If someone on your child's authorized pick-up list is picking up, please remind him or her to do so as well. Although we have never had any problem nor do we expect to in the future, this is an important security measure that keeps all of the children safe. Thank you for your continued compliance with our security policies.
Parking Policy
Traffic should enter the school parking lot at the first driveway and exit through the carport out the last driveway.
Cars should be parked in designated parking spaces or on the road above the school.
Please do not park under the carport, behind the bus, or in front of the dumpster.
Please do not block the mailbox.
All preschoolers must be escorted into the school by an adult.
Elementary students may be dropped off at the front door. Cars should stop in the right lane only and students should exit their cars through the passenger side door.
Please do not allow your child to run through the parking lot unattended or play on the hill.
Please drive slowly on school property. Be courteous and patient with other drivers and watch out for our children.
Illness Policy
A parent of a child that is determined to be ill shall be notified immediately. The child must be picked up within an hour of notification. No child shall be allowed to remain at school with the following conditions:
Elevated Temperature (100 degrees or higher)
Vomiting and/or Diarrhea
Conjunctivitis (Pink Eye)
Head Lice
Other Communicable Diseases (ie. chicken pox, strep throat, etc.)
Student Pick-Up
Student Pick-Up: Parents, please be sure to inform the teachers and/or front office if another family member or friend will pick up your child. This applies to names that are on your list as well as names that are not. If it will be the first time the family member or friend picks up your child, please remind them to bring in their drivers licensewhen they come in. This is very important to insure the safety of your child(ren).
---
School Spotlight
Additional dates for your calendars!
10 – Last Day of Summer Camp.
11 & 12 – School Closed for Staff Professional Development Days.
12 – Meet & Greet Hot Dog Social (5pm – 7pm).
15 – First Day of School for the 2016-17 School Year.
---
July Birthdays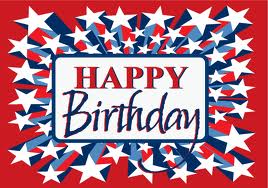 Students
2 – Tejal Kalan
2 – Kamryn Wood
3 – Myles Kelly
6 – Chris Mergianos
8 – Karinne Alleyne
8 – Nysha Lad
9 – Cassi English
9 – Myles Hayes
10 – Ashleigh Pearsall
15 – Rabee Dhillon
15 – Dominick LeFebvre
22 – Brooklyn Gause
22 – Nicholas Iszard
24 – Kollin Bright
24 – Anshu Girish
25 – Ryan Glover, Jr.
Staff
3 – Makayla Murphy
10 – Evelyn Jones
19 – Bronwyn Roberts
---
From the Education Department
– Lauren Starnes, PhD – Director of Early Childhood Education
---